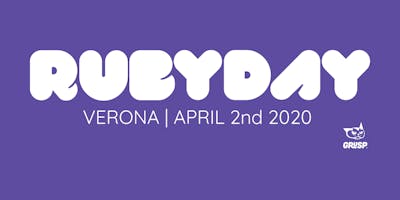 RubyDay is back! 
Verona, Thursday April 2nd 2020
RubyDay is the 8th edition of the Italian Ruby conference. The event's goal is to allow Italian Rubyists to meet and share experience while having fun and networking in an enjoyable context. 
• Thursday, April 2nd: the conference
CFP will be opening soon, keep in touch! @rubydayIT
RubyDay is a single day conference. There will be both advanced and basic expertise level talks. To attend the conference, choose the "2 April - Conference" ticket.We have discounted tickets for students. If you're interested contact us.
• Wednesday, April 1st: the workshop (tickets sold separately)

TBA
[Are you also interested in Vue.JS? If so, consider to stay with us and attend vueday, on Friday, April 3rd! Same venue, same organizers]

Previous editions of RubyDay: 2019 | 2016 | 2015 | 2014 | 2013 | 2012 | 2011
Please note that tickets for the conference and for the workshop are sold separately, and that the tickets are not refundable. 
The conference is organized by GrUSP, creators of events like jsDay and phpDay.