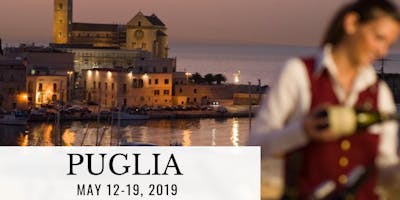 Visit the secret gem of Italy, Puglia. Enjoy an exclusive small group insider's tour of Puglia complete with seaside terraces, authentic cuisine and warm and welcoming people in your home away from home.Stay in your home away from home, the Mare Resort located in the Palazzo Telesio built in 1761, overlooking the harbor of Trani. Excursions abound during your visit. Join in for a seaside promenade, a visit to a UNESCO Heritage Site, and take in breathtaking views. Each day includes insight, tastings or cooking classes highlighting the region's cuisine.

Airfare / Travel Insurance:Guests to purchase own airfare using miles and preferred class and upgrades.  Flight and arrival times will be coordinated.  We will transfer together by coach to the Masseria.  Guests are free to arrive earlier or stay longer than the published itinerary but are responsible to meet the group at stated times.  Travel insurance is highly recommended.
Costs Included:
Transfers from/to Bari and/or Brindisi airports
Private bus or minibus available throughout the tour
7 lodgings in B&B service in luxury accommodations
2 special dinners with a typical menu in selected restaurants, beverages included (except where indicated)
3 private cooking classes with dinner
1 lunch in a Michelin starred restaurant
5 food and wine tastings in wineries and food manufacturing sites
All luggage transfers
8 days of professional, local guides with knowledge of the secrets and stories of the region
Medical and luggage insurance throughout the tour
Detailed map and a complimentary gift
Epicurean Exchange custom apron for cooking
Costs Not Included:
Airfare to Puglia
Cancellation insurance
Alcoholic drinks, personal expenses, and tips
Personal extras
Everything not clearly included in the paragraph "The rate includes"
Cancellation Policy:  We are willing to work with all our guests should situations arise that require guests to cancel plans with us.  Please understand we have guidelines to ensure that both the operator and our guests are treated fairly. With that, travel insurance is highly recommended, to reimburse you should cancellation be necessary. Epicurean Exchange reserves the right to cancel a tour due to low enrollment or other circumstances which would make the trip non-viable. Deposits and balances paid will be refunded if the trip is canceled by the operator.  Therefore, after deposits and tour balances are received (all 60 days or less prior to departure) they are non-refundable. Travelers have the option to recruit another traveler to take their place or file with their insurance carrier to recover costs of the trip.