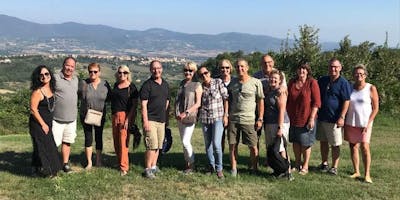 Wine is such an important part of the culinary experience, and no country understands that quite like Italy. This six-night tour is a delicious pilgrimage from Tuscia to Tuscany with incredible bottles and plates along the way. Raise a glass!
Friday 11th
Arrive in Viterbo
Accommodation in MiniPalace Hotel in Viterbo (1 night) 
Dinner and Wine Tasting.
Saturday 12th
Historical and Gastronomic Tour of Viterbo with Alessandra and Claudia 
Lunch at the Gargolo restaurant
Visit Magnificent Villa Lante in Bagnaia, Gardens 
Transfer to Bolsena at Hotel
Wine tasting and dinner
Sunday 13th
"Vendemmia" grape harvest at Madonna delle Macchie
Lunch and wine tasting at the winery
Afternoon relax
Dinner at Enoteca Provinciale Montefiascone
Monday 14th
Visit Orvieto in Umbria
Lunch and wine tasting at "La Pazzaglia"
Afternoon relax
Wine tasting and dinner 
Tuesday 15th
Visit the magnificent and unique "Civita di Bagnoregio" 
Lunch/ PicNic on Boat at Lake Bolsena
afternoon relax
Wine tasting and dinner
Wednesday 16th
 Visit Montacino beautiful town in Tuscany
 Wine Tasting at Sasso di Sole for unique Brunello tasting
  Transfer in a hotel in Tuscany
Thursday 17th
Travel day
PAYMENT:
-Online full ticket with any credit card.
-Check 50%deposit  50% 1 month prior departure.
PLEASE read cancellation policy before to sign up
-
Contact me directly if you want at: cookingwithalessandra.com