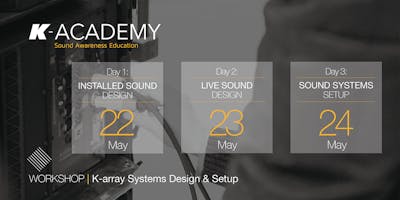 What are the applications of a flexible speaker? What are the physical principles of Electronic Beam Steering technology? How long must a column be to properly cover a certain area?
The goal of this 2-day workshop is to provide guidelines for the design of fixed installations (Day 1) and live events (Day 2) featuring K-array products from the Installed Sound, Portable Systems and Concert Series lines.
Much time will be dedicated to project examples and sound design techniques which are supported by product listening sessions, with the aim of inspiring the creativity of your next installation or live event.
⦿ PROGRAM
DAY 1 - INSTALLED SOUND
Acoustics and Psychoacoustics fundamentals
Sound systems for small venues: retail, museums, hotels and restaurants
EVAC EN54-24 systems
Conference room applications
Pure Array Technology
House of worship applications and other highly reverberant venues
A new approach to theaters and concert halls
Speaker quantity and placement
Subs-to-tops ratio
Installed Sound listening session

DAY 2 - LIVE SOUND 
History of the line array
SAT (Slim Array Technology)
EBS (Electronic Beam Steering) technology
EBS test and listening session
Acoustic simulation software
Concert Series rigging and listening session
Subwoofer arrays: acoustic simulation and test
Portable Systems overview, case studies and listening session

⦿ DEDICATED TOFrom architects and rental companies to system integrators and audio engineers, this workshop is a must for anyone involved in the design of fixed installations or live events featuring K-array products.
For those interested in learning about the practical setup of K-array systems, we recommend the Sound Systems Setup Workshop where more technical aspects are discussed, and we delve deeper into the practical setup and configuration of the systems, from the wiring and mounting to the management software.
⦿ PREREQUISITESOur goal is to make even the more complex physics behind our technologies understandable for everybody, but a basic knowledge of acoustics is highly recommended.
⦿ CERTIFICATIONEach participant will be awarded a course completion certification.
⦿ COST1-day attendance: 120 euro
A 1-night accommodation in a hotel nearby K-array headquarters plus lunch and beverages during the workshop are included in the cost
2-day attendance: 180 euro
A 2-night accommodation in a hotel nearby K-array headquarters plus lunch and beverages duringthe workshops are included in the cost.
⦿ DURATIONDay 1 from 9:30 to 17:30
Day 2 from 9:30 to 17:30
⦿ LANGUAGEEnglish
⦿ CONTACTSFor further details, travel and accommodation information, please contact us at academy@k-array.com