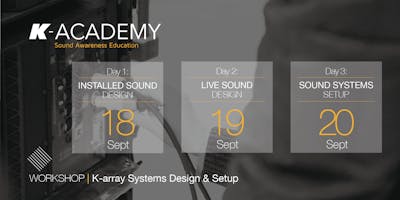 What are the applications of a flexible speaker? What are the physical principles of Electronic Beam Steering technology? How many speakers can be connected per amplifier channel?
The workshop is a three-day teaching of K-array technologies and solutions, starting from the basic concepts of sound systems design and ending with an advanced hardware and software training.
This training is customizable so you can choose the days that are more relevant to your needs. Check out the full program and get ready to immerse yourself in our sound awareness education.
 
⦿ PROGRAM
DAY 1 - INSTALLED SOUND DESIGN
The goal of Day 1 is to provide guidelines for the design of fixed installations featuring K-array products from the Installed Sound. Much time will be dedicated to project examples and sound design techniques which are supported by product listening sessions.
Sound systems for small venues: retail, museums, hotels and restaurants
EVAC EN54-24 systems
Pure Array Technology (PAT)
Conference room applications
House of worship applications and other highly reverberant venues
A new approach to theaters and concert halls
Sound and light from one single device
Speaker quantity and placement
Subs-to-tops ratio
Installed Sound listening session
DAY 2 – LIVE SOUND DESIGN
Day 2 is dedicated to K-array live equipment, featuring products from the Concert Series and Portable Systems that will be available for listening and testing, both inside and outside.
Slim Array Technology (SAT)
Electronic Beam Steering (EBS) technology
Advanced Bass Control (ABC) technology
EASE Focus 3 simulation software
EBS testing and listening session
Clubs, arena and stadium applications
Concert Series rigging and listening session
Subwoofer arrays
Portable Systems overview, case studies and listening session
DAY 3 – SOUND SYSTEMS SETUP
Day 3 of the workshop focuses on the technical aspects and software functions. It is assumed that you have clear comprehension of the main features and applications of K-array products discussed during Day 1 and Day 2.
Impedance calculations and settings
Kommander amplifier functions
RS485 and Dante connectivity
Wiring and setup of an Installed Sound system
K-framework and Armonia management software
Concert Series and Firenze-KH7 wiring and setup
Azimut systems wiring and setup
⦿ DEDICATED TO
From architects and rental companies to system integrators and audio engineers, Day 1 and Day 2 are a must for anyone involved in the design of fixed installations or live events featuring K-array products.
Day 3 is mainly dedicated to technicians who setup and tune systems that employ K-array equipment.
 
⦿ CERTIFICATION
At the end of Day 3, you will be required to take a qualifying examination to be certified as a K-array Certified Operator.
 
⦿ COST
1-Day Attendance: 70 euro
General admission to any one day of the workshop. One-night accommodations in a nearby hotel to K-array headquarters plus meals during the workshop are included in the cost.
2-Day Attendance: 130 euro
General admission to two days of the workshop. Two-night accommodations in a nearby hotel to K-array headquarters plus meals during the workshops are included in the cost.
 
3-Day Attendance: 180 euro
General admission to the full three-day workshop. Three-night accommodations at a nearby hotel to K-array headquarters plus meals during the workshops are included in the cost.
 
⦿ DURATION
Day 1: 9:30 to 17:30
Day 2: 9:30 to 17:30
Day 3: 9:30 to 16:30
 
⦿ LANGUAGE
English
 
⦿ CONTACTS
For further details, including travel and accommodations, please contact us at academy@k-array.com.