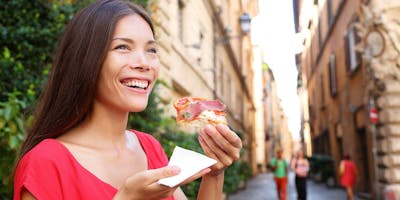 Monti and Esquilino districts are the true heart of Roma.
Monti is the first district within the heart of the city. With its narrow streets and alleyways full of shops and clubs it offers many spaces where you can dine, or simply have a drink. A tourist district, yes, but evocative, full of history and things to discover. The Esquilino is less recognised than Monti, and perhaps for this reason, it is more true, original and rich in historical shops where the locals routinely go, and hereby often remains unknown to the visitors of the city.
Both districts have historical testimonies that start from the 6th century BC, passing through Imperial Rome, to the Middle Ages, the Renaissance, the unification of Italy and to the present day. With such a history, there are an abundance of stories and legends, leaving the listener stunned and fascinated. 
You will start the tour with a fantastic coffee toasted italian style (or cappuccino), in one of the oldest patisseries in the area, accompanied by the "maritozzo"  (a roman typical breakfast cake full of whipped cream). Then you will continue with pizza: white and red, the most typical from a traditional baker in the Esquilino neighborhood (we add also the onion pizza... so tasty!) To follow, you must try the legendary supplì (fried rice balls stuffed with stringy mozzarella), the most famous Roman street food! In the same stop you will try two others famous dishes: "filetto di baccalà" (codfish fillet)  and "fiore di zucca" (zucchini flowers filled with mozzarella and anchovies) fried, and covered with a crispy crust. And of course, "bruschette" (grilled bread): white (with row garlic and extra virgin oil) and with little tomatoes, a must of the roman starters.
 In a little nearby market we will continue with a tasting of local cheeses and sausages covered in a fantastic organic "prosecco"  and a choice of different kinds of olives.  
Leading on from this, you simply cannot miss the famous roman pasta. You will enjoy two different kinds of pasta; gricia and cacio e pepe, and a glass of red local wine. 
To close the tour, a refreshing homemade ice cream awaits you!
In between the tasters, your guide will tell you stories and anecdotes related to the city, the neighborhood, and especially to food; detached from the most common tourist routes.
Each stop we have chosen, especially for you, serves all the best quality products and recipes - perfected by our grandmothers, and grandmothers of our grandmothers.