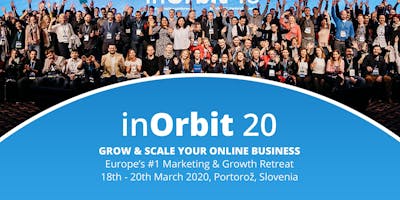 EUROPE'S #1 MUST-ATTEND MARKETING CONFERENCE FOR
DIGITAL MARKETERS AND E-COMMERCE SPECIALISTS
Power up your skills, your knowledge and your network over two days at a 5-star beachfront luxury resort on the Adriatic coast.
This is your chance to learn what's working now and what are the hottest trends for 2021 and beyond from some of the smartest and most successful digital marketers in the world.
The digital marketing game is changing fast and to help you out-pace your competition we are bringing expert speakers from around the world who are going to teach you exactly the methods and strategies they are using to scale their online businesses!
You'll get the big picture on consumer behavior, user experience, SEO, Adwords, Facebook PPC, email and content marketing, CRO, marketing automation, webshop technologies, e-commerce best practices and more … all boiled down into action steps that you, or your staff, can easily perform, measure and optimize.
InOrbit is the largest growth marketing conference in the region, covering a broad range of topics from consumer behavior and insights, digital strategies, digital team organization and growth hacking to conversion optimization, predictive analytics, machine learning, search engine optimization, advertising and more. It's also a meeting point for innovative people who will share their actionable insights and innovation trends. Take this opportunity and network with the best in the business.
You will learn exactly what you need to do in order to increase the ROI of your funnels and your marketing campaigns.
This year's programme will host over 50 industry experts who will share their knowledge and experience on relevant topics and will cover everything you need to know to grow your digital business. 
Want to know more? Visit our website www.inorbit.si before booking the ticket. 
If you require a proforma invoice for your purchase please contact us at info@inorbit.si and our staff will help you out with the details.