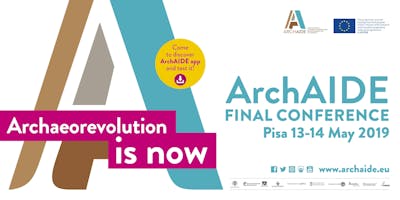 ArchAIDE - Final Conference
Archaeorevolution is now
Participating. Downloading. Testing.
 
We are glad to announce the final event of ArchAIDE project that will be hosted in Pisa, next 13-14 May 2019.
We invite the archaeological community to attend the event and discover the results of the project. The ArchAIDE app will be shown and each participant will be able to download and test it.
The key aim of ArchAIDE project is to help archaeologists in their daily work. ArchAIDE app aims to change the global practice of archaeology by allowing a user to quickly obtain information, by photographing a sherd, applying autorecognition technology to that photograph, and matching the sherd to items in the catalogue
 A preliminary programme of the event is now available. 
 
 
Preliminary programme
 13 MAY 2019
 9:00   I Registration and welcome breakfast
 9:30   I Conference Opening and Welcome
 10:00 I Opening Lecture: ArchAIDE project. The Archaeorevolution is now.
 10:30 I Beyond paper: ArchAIDE database of ceramic.
 11:15 I Technologies and tools for the digitization of archaeological catalogues
 11:45 I Shape and image-based recognition of potsherds
 12:30 I Lunch
14:00 I Creating training set of potsherds
14:30 I From data to visualization
 15:00 I Open data, copyright and IPR  
15:30 I Coffee break
 16:00 - 18:00 I Artificial Intelligence and archaeology. What's running in Europe
 18:30 - 20:00 I Walking tour on the medieval walls of Pisa (reservation is mandatory)
14 MAY 2019
9:30 I ArchAIDE App / Free download of ArchAIDE app and live tutorial
10:30 - 12:30 I Demo area                    
12:30 I ArchAIDE documentary video
13:00 I Lunch
14:30 I What's next? Building sustainable future for ArchAIDE.
16:30 I Closing remarks 
 
More detailed information will be available soon.