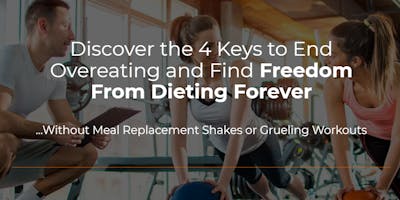 Join Our Online Workshop: 
Discover the 4 Keys to End Overeating and Find Freedom From Dieting Forever
This hour-long training will help you create a clear path to achieving your weight loss goals. 
During the Free Training you will discover:

How to empower yourself to stay in control of your eating habits so you can lose weight and fall in love with your physique...even if you're constantly feeling stressed or upset.

How to attack and eliminate the root cause of your weight gain so you never have to rely on band-aid fixes like diets, meal replacement shakes, or excessive exercise schedules.

Details of this Online Workshop will be provided once registered on Eventbrite 
This is a FREE online event. There is no cost, but seating is very limited.