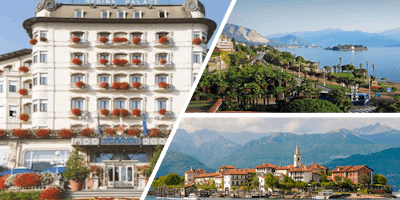 We are excited to announce that the 2020 conference will be held in the picturesque town of Stresa on the shores of Lake Maggiore in the province of Verbano-Cusio-Ossola in the Piedmont region of northern Italy.
Dates: Sunday 24th May, 2020 through Tuesday 26th May, 2020
How to get there: We recommend flying into Milan Malpensa Airport (MXP). All major intenrational airlines fly to Milan, Italy.
Visa Guidelines: Please check with your local Italian consulate, or from Schengen Visa Services. For more information please visit: www.schengenvisa.cc
 Inclusions:
What is included in my conference fees?
- Cocktail Reception on 24th May - Water & coffee/tea service during the working sessions - Daily lunch during the conference - Gala Dinner (details to be announced)
The Venue & Hotel:
Stresa, Italy is a town that you may want to stay longer to enjoy. You can really wind down to spend a stress-free & relaxed holiday with your whole family – we recommend that you bring along your family to enjoy this beautiful country and spend a few days in Italy.
Hotel Regina Palace
Hotel Regina Palace is a majestic Art Nouveau building offering refined classic-style interiors and large grounds with pool. It is right on the shore of Lake Maggiore, in Stresa.
Rooms and common lounges are all decorated with antique furniture, rugs and historic chandeliers, all giving a sense of history and nobility. Rooms overlook either the garden or the lake and some also feature a spa bathtub.
This 4-star hotel features a well-equipped spa area, complete with a sauna, Turkish bath and indoor pool in a grotto. Outside you will also find a tennis court and a furnished terrace by the pool.
Lake Maggiore, Stresa
The famous town of Stresa enjoys a splendid location on Lake Maggiore in the Gulf of Borromeo, where it overlooks the eponymous islands, the main attraction in the region. Its beautiful countryside, architectural gems and mild climate combine to make Stresa one of the most popular tourist attractions in Italy. The Borromean Islands, with their stunning palaces and ornamental gardens, are an unmissable destination for aesthetes.
Since the late 19th century Stresa has been renowned for its sophisticated atmosphere and genteel visitors, and today still enjoys an impressive roster of cultural, musical and meeting events.