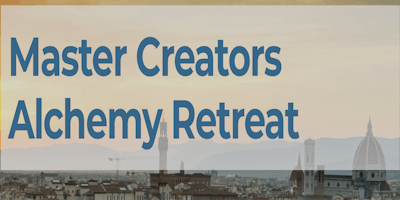 What is MCAR?The Master Creators Alchemy Retreat [MCAR] is an ALL-INCLUSIVE, wild-hearted, mind blowing, life changing, magically luxurious [*family friendly] business retreat for innovators and purpose driven entrepreneurs that promises:

Inspirational Insights

Visionary Support & Tactical Tools 

Clarity, Healing & Intuitive Guidance

Practical & Actionable Business Planning

to help you come fully out into the light, create or even up-level your business, while aligning with your Unique Life Purpose [ULP] to sustain and grow your business and profits.This is NOT a rubber-chicken, stale air, sales hype conference, of water downed advice and surface level tools.This is about breaking down the key elements of integrating your talents, gifts and unique purpose to envision, build or uplevel your business.  You will get the support you need to create and expand into a lifestyle and work as impactful and decadent as you want to stretch into.This event is for mission driven business leaders, gifted holistic healers, and world class magic makers who are tired of being tangled up in self-doubt, hampered by stagnation and the overwhelm of indecision.  You'll be able to receive the space and support of intuitive business strategies to  create a powerhouse business that blows the doors off every upper limit lie you've ever told yourself -​for good.
A minimum of 10% of all proceeds will be donated to support the economic and social development through a local fund in Puerto Rico.