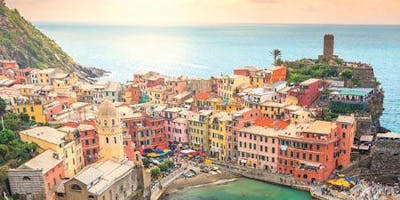 Tuscany (Italian: Toscana) is a region on Italy's west coast, on the Tyrrhenian sea. It is one of the most popular places to visit in a country that is itself one of the most popular tourist destinations in the world. There are several reasons to visit Tuscany: some of the most important ones are seeing Renaissance art in Florence, eating Tuscan food and tasting the excellent local wines, and after all this enjoying a day at the beach in Viareggio.
Arrival Date: September 14, 2019
Arrival City: Tuscany Italy
Country: Italy
Ages: All Ages
Pricing & Availability Subject to Change (PRICES DO NOT INCLUDE AIRFARE)
Solo
$3,499USD pp
Share
$2,999USD pp

**CALL ANY OF THE TRAVEL CHICKS TO RESERVE YOUR SPOT NOW**

What's Included?
More than just a vacation!
When you join Travel Chicks on this amazing vacation, you'll enjoy all the fabulous experiences of Italy PLUS an invitation to join in some great activities throughout our travels!

Never Travel Solo host onsite during the trip.
7 nights accommodations at a 17 bedroom private villa in Tuscany.
Tours and admissions for all attractions listed on the itinerary.
Visit the cities of Florence, Sienna, San Gimignano, and Panzano in Chianti.
Roundtrip transportation from the Florence airport to our private villa.
Private transportation for all tours.
7 continental breakfasts at villa.
6 dinners.
3 private chef dinners.
1 light dinner at villa.
1 winery dinner.
1 cooking class.
4 lunches.
2 lunches at local restaurants.
2 light lunches at villa.
3 winery visits with tastings.
All taxes, fees, surcharges, and currency fluctuations.
Our complimentary roommate matching service will match you up with a roommate as long as you're a complete non-smoker/tobacco user and you book at least 120 days prior to the trip.
A mandatory $100 cash tip will be collected in addition to the trip price to cover the private chefs, maids, motorcoach drivers, and tour guides.

Itinerary
09/14/19 (Saturday) - Arrival Day & Welcome Private Chef Dinner
We have a group pickup departing the Florence airport at 2:30 PM so please ensure your flight arrives in time to join us.
Upon arrival at the villa we'll enjoy some light snacks and wine while we explore our home for the week. Our private chef will prepare us with a delicious Tuscan dinner later that night.
NOTE:  Should you miss our 2:30 PM departure from the Florence airport you will need to make your way to our Tuscan villa at your own cost.
09/15/19 (Sunday) - Pisa and Lucca
We'll visit the world famous Leaning Tower of Pisa and then it's off to explore the walled city of Lucca. Afterward, we'll head back to the villa to enjoy everything it has to offer before we enjoy a light dinner.
09/16/19 (Monday) - Winery School, San Gimignano, & Private Chef Dinner
With our first stop today at a wine tasting school, we'll get an education on Tuscan wines and enjoy a wine tasting and samples of some local food. In the afternoon we'll visit the beautiful medieval town of San Gimignano. Enjoy your time wandering the narrow streets and you even have a chance to visit a world-champion gelateria.
Another amazing meal from our private chef will be offered tonight.
09/17/19 (Tuesday) - Florence Guided Tour & Lunch
With our local guide we'll spend the morning exploring Florence and visiting sites such as Il Duomo, Ponte Vecchio, and Piazza della Signoria after a stop to view the Statue of "David" in the Accademia Gallery. After our tour, we'll feast on an included lunch before we set you loose to enjoy some free time exploring the city.
Dinner is on your own before we meet back up to head home to our villa.
09/18/19 (Wednesday) - Winery Tours & Winery Dinner
Today we'll visit two amazing Tuscan wineries where we'll have guided tours of their properties. We'll taste 3 wines at our first stop and at our second winery we'll enjoy a 4 course Tuscan dinner paired with wine.
09/19/19 (Thursday) - Cooking Class
This morning we'll have some time at our villa to relax. Later that day we'll enjoy a cooking class at the villa where we'll learn how to prepare some great Tuscan dishes and enjoy what is cooked.
09/20/19 (Friday) - Siena Guided Tour & Lunch / Farewell Private Chef Dinner
We'll head to Siena where we'll have a tour of the city with our local guide. Be amazed at the Piazza del Campo and hear about the famous Palio Horse Race that takes place twice a year. Take in other wonderful sites of this picturesque city before we dine on an included lunch at a restaurant near the city center.
Tonight we end our trip with a Farewell Dinner from our private chef.
09/21/19 (Saturday) - Departure Day
Today is our departure day and private transportation will leave the villa at 8:00 AM to head to the Florence airport for a 9:30 AM arrival.
NOTE:  Should you decide to leave at another time during the day you will have to pay for your own transportation. We are required to check out of the villa no later than 10:00 AM.
ADDITIONAL INFORMATION
The prices do not include airfare to and/or from Italy.
Not all bathrooms are en-suite. Some bathrooms are located right outside the bedroom. Single occupancy rooms are guaranteed en-suite.
Villa photos are representative of the villa we'll use
Depending on the size of our group, some of our activities may be part of a larger tour group.
The hotel, activities, and/or their order may change and/or be cancelled due to circumstances beyond our control. In the event this happens, we will try our best to make similar accommodations or changes.
Some parts of this trip requires extensive walking (5 - 8 miles over the course of the day as well as uphill/downhill climbing on cobblestone or non-stable pathways).

Deposit is $350USD and non-refundable.