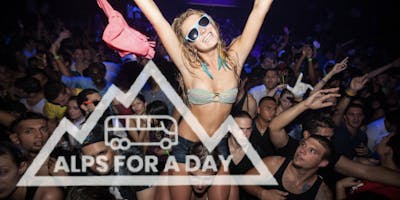 Calling all thrill seekers who'd like to spend their weekend with like-minded adrenaline junkies and those wanting to try out a new adventure....
You're purchasing a place on the Ultimate Road Trip on board our luxury coach from London to the French ski resort of Chamonix for a weekend like non other.
Can you handle it?
Your ticket also includes the following:
onboard continental breakfast, Ski lift passes, discounted equipayment hire,  introductory ski/snowboard lesson, night club entry, fun, games and prizes and much more. 
What to expect-
ITENERARY
FRIDAY 17th Jan 
| 6 PM
Once you board the coach from one of the various pickup locations in London (see full list below), we'll start as we mean to go on with a FREE welcome drink for everyone on board.
If its a quiret ride your after than think again. There will be drinking games and our crazy Coach and Cocktails classes for all to enjoy, with prizes to be won.
We hit the road on our lively yet luxurious Alps For A Day coach as we travel through the night to the famous district of Chamonix. 
SATURDAY 18th Jan 
| Approx. 10 AM
We'll arrive on the Saturday morning for a jam packed day on the slopes - of course you can expect fun and laughter along the way.
New to winter sports? No problem, we have UK-qualified Ski and Snowboard instructors to teach you the basics and keep you safe whist having fun on the slopes. If you're a seasoned vet, and just want to get on the slops and shred some snow, then just grab your ski pass (included in price) and off you go!
There will be a chance to purchase refreshments onboard and we'll have a pre-packed continental breakfast goodie back ready for you on arrival in Chamonix. On arriving, you can sit back and enjoy the picturesque mountains or freshen up and change into your ski wear.
If you don't have your own skis or snowboard, you'll be directed to one of our accredited hire stores where you'll be able to collect your discounted hire equipment (must be booked online prior to travelling)
The coach will always be locked througout the day but if you wish to gain access to get changed, just speak with one of the Alps For A Day team  
| 5 pm
After burning calalories on the slopes you can join the Alps For A Day team for dinner at 5 pm, share stories with your fellow travellers and make yet more memories. Of course, dinner with us is optional and if you'd prefer to explore the town instead that's fine too - just be sure to get back to the meeting point (which you'll be shown on the day) by 8 pm to get the evening party started!
| 8 pm
Evening night spot in Chamonix with the whole gang so get ready to party hard and fast.
|11pm
The coach will leave Chamonix at 11pm for the return trip home. Your final chance to live out the last leg of the trip. Or if by now your well and truly partied out, you can just curl up and get some sleep
Sunday 19th Jan
| Approx 3 pm (for final drop-off)
Return back to the UK to the various drop-off points (Dover, Canterbury, Maidstone, Dartford, New Cross, London Victoria)
The fun is well and truly over... Until next time!

The PICKUP Points (please specify when booking)
London Victoria coach station, New Cross, Dartford, Maidstone, Canterbury and Dover
All travel must be 18 and over and have a valid passport. You must also be legally allowed without restrictions to Chamonix.
it will be your responsibility to have all legal documentation in place before you travel.
Please email if you have any special, health and dietary requirements. Winter sports comes with its own elements of risk and adequate insurance and cover prior to travelling is advise. 
The planned times are just a guide and we may need to alter arrival and departure times where necessar.