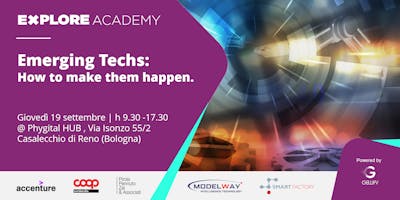 Advanced technologies empower engineers with Artificial Intelligence and automation technologies and make them increase speed, quality and flexibility of their projects and factories.
The Inno-Academy is a six-hour lecture where Lucia Chierchia, Managing Partner @ GELLIFY and her team will present how to create value through digital technologies.
We've designed this academy to be an education program tailored on specific needs of companies willing to understand, explore and implement innovative models and solutions.
 
This lecture includes:
- an intensive path with academic concepts and operational tools
- an up-to-date format in terms of technology and business model novelties
- experiences integrated with special contents like startup pitches and technology tours
 
Why you should attend:
- You will be able to learn more on innovative models and solutions that can be applied within your company.
- You will be able to build your technology roadmap using our tools.
- You will be able to see how AI can be applied to processes as well as other automation solutions on real use cases.
 
Who is this event for?
R&D Managers, Engineers, Innovation Managers, Operations Managers.
AGENDA: 
09.30 – 10.00 – Check-in10.00 – 10.15 – Opening with Lucia Chierchia10.15 – 12.30 – Inno Academy Part I12.30 – 12.45 – ModelWay Speech with Ilario Gerlero12.45 – 13.45 – Networking Lunch13.45 – 14.00 – Smart Factory Speech with Lucia Tagliabue14.00 – 16.00 – Inno Academy Part II16.00 – 16.30 – Take-aways from each table and closing remarks