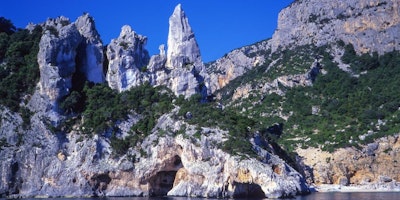 Hearthroad and Blumarine offers guided guided hiking tours around the Gulf of Orosei.
Departure is scheduled at 09:30 from Cala Gonone port and returning around 5:30 pm (timetable varies according to the period).We offer you the chance to spend a beautiful day in the inflatable boat at the discovery of our Gulf by having an expert, competent guide, able to show you the coast, showing all the coves and hidden caves that you will not be able to see.
During the escursion will be possbile visit all the gulf of Orosei:
Mini cruiser start in Cala Gonone and follow near the coas...during the travel you can will visit Piscine di Venere where you can swim in cristaline water and after go on with the exporation to discover the wonderfull and underwater world and after we wil go to immerge in the blu of Cala Goloritzè. In second time we will go the take sun, swim and drink coffee at Cala Mariolu and after to visit Cala Biriola where you can will have a lunch and than go to discover the amazing marine concetrion of Anemoni Caves and finally  visit Cala Luna.
The price is inclusive of every expense (hire, fuel consumption and driver).
Lunch and tickets for any visit to the caves are excluded.