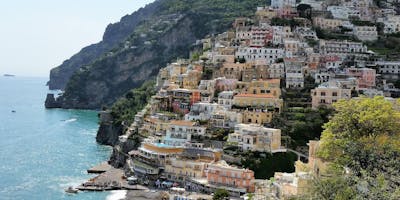 Italy: Sicily & Amalfi Coast Friday, May 24 to Sunday, June 2 Rome, Eastern Sicily, Amalfi Coast, & Naples
Join us this spring to the enchanting, historic, and ever so beautiful areas of Italy-the Amalfi Coast and Sicily! We will start out tour in Rome, the heart of Italy and make our way south to Taornino Sicily, Amalfi Coast, Capri, Pompeii, and Naples. Enjoy walking tours, Sicilian cooking class, wine tasting, Mt. Etna jeep tour, coastal towns, Amalfi Coast boat excursion, historic sites, and so much more!
Included International Airfare (JFK-possibly Newark too) Round-trip flight to Sicily Airport transfers Small Group (max 10pp) All ground transportation to/from activities on itinerary English speaking guides on all tours 1 Night Rome 3 Night Amalfi Coast (Positano) 3 Night Taormino Sicily 1 Night Naples 7 Breakfasts Heart of Rome Tour Pompei & Mt Vesuvius Tour Mt. Etna Volcano Jeep Tour Taormino Walking Tour
Early Bird Price ($800 deposit): $3395 w/airfare or $2295 land only (expires 1/27) Base Price: $3595 w/airfare or $2395 *See below for payment due date and procedure* $800 deposit to reserve your space!
*Price is 2pp per room. We will pair you up with another solo traveler.*
QUESTIONS? CONTACT CIRCLE THE [email protected]
Saturday, May 25: Arrival & Heart of Rome Tour If you are flying with the group, our flight will arrive in the early afternoon to Rome. If you are doing land only your flight should arrive by 12pm. If you arrive later you can meet the group at the hotel.
We will transfer to the hotel and after enjoy our first Italian lunch. There will be time in the afternoon for you to explore on your own or with the group before we meet out guide for our Heart of Rome Walking Tour.
This is an easy going walking tour. Traversing the heart of the city we will discover the Spanish Steps, the famous Trevi Fountain, Piazza Navona, the Pantheon, the lively night time square of Campo di Fiori, as well the tomb of the artist Raphael. This tour shows the most beautiful areas of the city and we'll get a feeling for life in Rome as we walk around, revealing Rome, old and new, its Christian and Pagan marvels, and its optical illusions. The tour will conclude in the early evening followed by an optional group dinner.
Sunday, May 26: Arrive to Taormino & Walking Tour We will depart in morning for our late morning flight to Catania Sicily. Upon arrival we will transfer to Taormino. After checking in and lunch, we will meet for our guide for our walking tour. Our tour of Taormina goes along the main street, called Corso Umberto, which opens and closes with two big arches, Porta Catania and Porta Messina, the remains of the old wall. Our guide will inform us of the numerous and fascinating monuments of this lovely small Norman town.
Taormina has in fact a long and ancient history, inhabited by the Greeks, Romans, Arabs and Normans. All of these dominations have left valuable artistic testimony. We will visit the Greek Theater, the Odeon, Palazzo Corvaja, the numerous small churches, and the splendid view which opens onto a deep blue sea and blue sky reaching as far as the summit of the volcano Etna.
Monday, May 27: Etna Volcano Jeep Tour In mid morning we'll get picked up with off-road vehicles and head in the direction of Mt Etna. During our adventurous drive up to the volcano, partially off-road, over cold lava streams we will cross hundreds of year old forests and make several stops to visit some of the most beautiful sites on Mount Etna by foot, accompanied by our guide at all times. We'll take an easy walk to the impressive "Monte Fontana" and a visit of the famous valley "Valle del Bove." Wandering through old and new lava flows, walking on extinct craters and equipped with helmets and flashlights we'll enjoy an unforgettable experience visiting a real lava cave, where ice was produced centuries ago. Our guide will show us the variety of plants and animals that populate our active Volcano. Walking through ancient forests we'll learn a lot about Etna vegetation and wildlife. We'll return from our tour around 2pm and enjoy the remaining day at your leisure.
Tuesday, May 28: Open Day Today you will have the day to choose what you'd like to do. We've listed some below. -Wine & Olive Oil Tastings at Etna Wineries -Godfather Movie Sites Walking Tour -Catania and the Riviera of Cyclops -Syracuse Tour -Aeolian Islands Tour -Baroque Tour: Villages of Noto, Modica and Ragusa -Agrigento Day Trip -Explore more of Taormino
Wednesday, May 29: Optional Sicilian Cooking Class & Transfer to Amalfi Coast We will start our cooking class in the mid morning at the local market. Our chef will explain to us about the Sicilian food while he buys food for our cooking. We'll then go to the restaurant for the cooking and start doing home-made fresh pasta and maccheroni like the chef's grand-mother style; sicilian caponata and lots more. After finish to prepare your creations, we will follow with the lunch and taste two different type of Sicilian wines. After our cooking class we'll transfer to the airport for our evening flight to Naples and transfer to our hotel in Positano.
Thursday, May 30: Open Day Or Optional Day Trip to Capri Today you will have the day to choose what you'd like to do. We've listed some below. -Day trip to Capri -Spend more time at Amalfi Towns (Ravello, Amalfi, Sorrento,etc) -Beaches on the Amalfi Coast -trekking in Amalfi -Discover small fishing villages -Shopping, cafes, and relaxing....
Friday, May 31: Optional Amalfi Coast Day Cruise We will depart early in the morning and journey along the famous Amalfi Coast on our private boat We will skirt the stunning Amalfi coast, stopping to explore the most scenic stretches and villages. Drift leisurely along the southern Italian coast, marveling at the dramatic views. Travel by the whitewashed fishing village of Praiano, the narrow cove of the Furore fjord and Conca dei Marini, home to the shimmering green waters of the Emerald Grotto sea cave and enjoying free time in Amalfi or Ravello.
Saturday, June 1: Salerno, Pompeii, Mt. Versuvius, & Transfer to Naples From Positano we leave the Bay of Salerno and head over to the Bay of Naples for a stop in Sorrento, known as the land of the Mermaids and famous for its marquetry and stunning views across the Bay to Vesuvius and the islands of Ischia, Procida and Capri. In Sorrento we will have time for a cup of coffee at a viewing spot and more photos.
We will continue up the Sorrentine peninsula to the archeological site of Pompeii. Here are private guide will take us on a tour of the ruins and an opportunity to walk up or bus Mt. Vesuvius. Pompeii is an ancient Roman city that was entirely destroyed by the sudden eruption of Mt. Vesusius in 79 AD. The largest archaeological site in Europe and currently a UNESCO World Heritage Site. Witness the destruction first-hand as you visit Pompeii's most famous sites, including the Forum, the Thermal Baths, Vetti's House and the Lupanare brothel, giving you a glimpse into daily life during the Pax Romana. Today you can see shapes of objects — even bodies — that were buried beneath the volcanic ash and pumice.
After lunch we will board a bus and drive 40min to legendary Mt Vesuvius. From here you will have an option to embark on a moderate hike up the volcano. When you reach the summit at 3,900 feet, you'll be rewarded with panoramic views of Bay of Naples from east to west. Peer down into the crater and see plumes of steam issuing from the sleeping, but still active volcano! After our visit we will drive to Naples for our overnight.
Sunday, June 2: Departure Home We will depart mid-morning for the Naples airport for our early afternoon flight arriving back to NYC in early evening.
Payment Due Dates and Procedures All payments must be made on time to secure your spot. You may pay the balance in full anytime on/before the first due date.
After deposit pay the balance in either 3 ways: -Quick Chase Pay (Chase account not required) -Send check to Circle The World P.O.Box 20484 NY, NY 10011 -Pay online through website (a 3% service fee will be added to total)
Due Dates $1300 Feb 24 $1295/$1395 March 24 (final payment due) (if you signed up after sale price, your final balance is $1395)